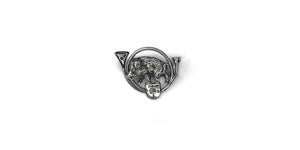 Hunt insignia Jagdabzeichen: walking wild boar
This hunting badge is NOT available for general sale. These badges are often referred to as Jagdabzeichen on the European continent and are traditionally worn by hunters on their cap.
Please let us know if you wish us to incorporate your family crest or coat of arms in your designs. We are able to make custom heraldry.
This hunt insignia or badge features a wild boar walking and a family crest. Handmade Sterling Silver Hunting Badges - from Vienna's premier hunting Jeweler.
I make this personally in my workshop in Vienna from sterling silver.
In German: Jagdabzeichen - einzigartige Designs in feinster Handarbeit. Handwerkliche Qualität aus Österreich. Blog: alles rund um Jagdabzeichen
For the seeing impaired this page contains
Jagdabzeichen
Hutnadel Jagd
Abzeichen Jagdhut
Wildschwein
Keiler
Wild boar
Wappen