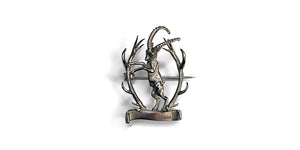 Hunt insignia Jagdabzeichen: alpine ibex
This hunt insignia or badge is NOT available for general sale and is shown for illustrative purposes only. I hope you like my portfolio
These badges are often referred to as Jagdabzeichen on the European continent and are traditionally worn by hunters on their cap. This badge features an alpine ibex standing rampant between two deer antlers. 
This hunt insignia or badge features an alpine ibex. I make hunting insignias for real hunters who live and maintain these traditions. 
Please let me know if you wish me to incorporate your family crest or coat of arms in similar designs. I am happy to make custom heraldry and hunt insignias (Jagdabzeichen) to your bespoke design.
I make this personally in my workshop in Vienna from sterling silver.
In German: ich fertige Jagdabzeichen für echte Jäger, die ihre Traditionen leben und pflegen. Handgefertigt von ihrem Jagdjuwelier. Blog: alles rund um Jagdabzeichen
For the visually impaired this page features
Jagdabzeichen
Hutabzeichen Jagd
Jagd-Abzeichen
Alpine Ibex
Cabra Ibex
Steinbock