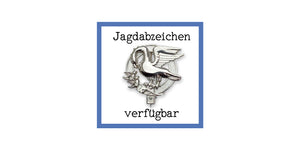 Jagdabzeichen Pelican in her piety
Regular price €100,00 Sale
Pelican in Piety Sterling Silver Badge
The Pelican in Piety Sterling Silver Badge is a beautiful and meaningful symbol of faith. Made of high-quality sterling silver, this badge features a pelican in her piety, a Christian symbol of Christ's sacrifice. The pelican is depicted feeding its young with its own blood, which is a reference to the Bible passage in John 3:16: "For God so loved the world that he gave his one and only Son, that whoever believes in him shall not perish but have eternal life."
This badge is perfect for wearing on a hunters hat, and is a thoughtful gift for any hunter or Christian. It is also a great way to show your love of nature and the outdoors.
If you are interested in a custom-sized pelican badge made from any metal, please feel free to contact us. The picture above shows different casts made from the same design, but we can create a badge to your exact specifications. We offer a variety of metals to choose from, including sterling silver, gold, brass and pewter. I can also create badges in a variety of sizes, from small lapel pins to large wall plaques. Please contact us today to discuss your custom pelican badge needs.