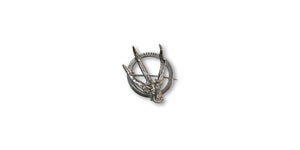 Hunt insignia Jagdabzeichen: unusual antler
This hunt insignia or badge features an unusual antler as a trophy from a hunt in Hungary. Please note: this hunting badge is NOT available for general sale and was made to order for a customer.
These badges are often referred to as Jagdabzeichen on the European continent and are traditionally worn by hunters on their caps. Let Vienna's premier silversmith make your bespoke high-quality and durable hunting insignia ( Jagdabzeichen ) with which you can live out your passion.
I make this personally in my workshop in Vienna from sterling silver.
In German:  Handwerkskunst trifft auf Jagdabzeichen – nach Ihrem Wunsch gefertigte Hutnadeln aus dem Hause Sophie Salm der Jagdjuwelier aus Wien. Gelebtes Brauchtum - abnormes Geweih als Wunschmotiv. Blog: alles rund um Jagdabzeichen
For the visually impaired this page features
Jagdabzeichen
Jagd-abzeichen
Hutabzeichen Jagd
Geweih
Abnormes Geweih
Rehbock