Do you want to read Entwerfen Sie Ihr eigenes Jagdabzeichen in German? 
How to design your own insignia
At sophiesalm.com, we take pride in our handmade jewelry, each piece meticulously crafted with passion and precision. Our dedication to delivering the finest hunting jewelry is what sets us apart. We understand that hunting isn't just a hobby; it's a way of life, a connection to nature, and a celebration of heritage. That's why we offer bespoke jewelry that tells your unique story. Whether it's a custom Hutnadel or a personalized hunting badge, our creations are a testament to your love for the hunt and the traditions that define it."


As you explore our portfolio, you'll discover an array of designs that capture the essence of alpine hunting. From intricately detailed jagdschmuck to exquisite jagdabzeichen, each piece is a work of art. Our commitment to quality means that your jewelry not only looks stunning but also stands the test of time, just like the traditions it represents.


To me, crafting hunting jewelry is more than a business; it's a way to connect with kindred spirits who share a passion for the outdoors. So, we invite you to explore our portfolio, be inspired by our creations, and if something catches your eye, don't hesitate to get in touch with us. We'd be delighted to bring your vision to life and create a piece of hunting jewelry that's uniquely yours.
With a little creativity and attention to detail, you can create a unique Jagdabzeichen that will be everybodies envy.
Jagdabzeichen
To design such a masterpiece requires some considerations:
Geography

1. What game occurs in the hunting ground?
Mostly deer, but also other small game such as fox or hare, flying game, feathered game, big game such as fallow deer and stags, wild boar, raccoon, bear, buffalo, lion...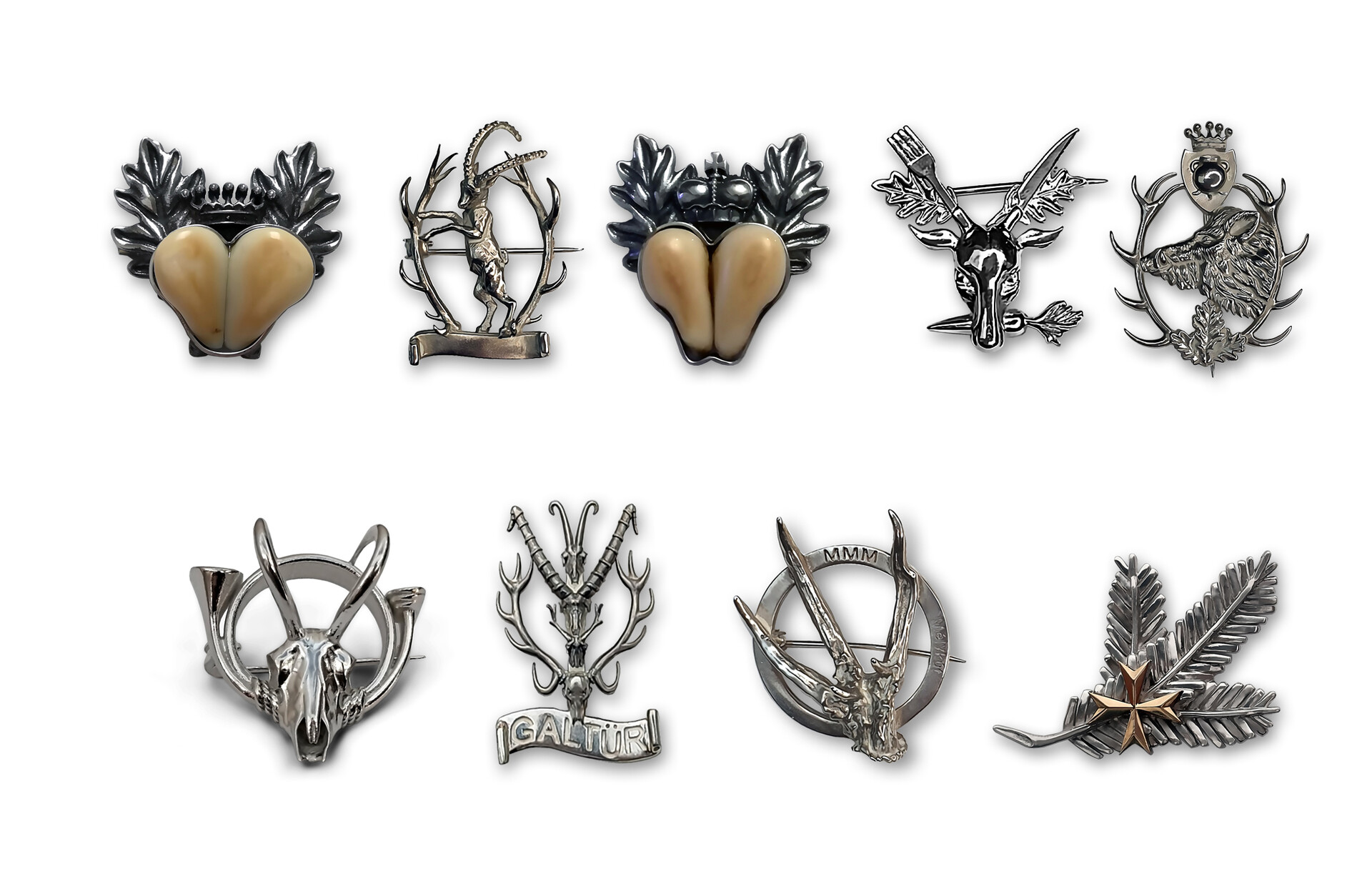 Animal type
2. which piece should decorate the hunting badge? Only one animal or a combination of several motifs?
Visual design Jagdabzeichen
3.a draft or simple drawing of the motif is helpful to be able to determine the visual effect. A good sketch helps to structure the design and determine the ideal proportions.You can use a variety of elements, not only trophies, but also your initials, coat of arms or crest are possible.
Nevertheless, the final product should be simple and clear. So proceed step by step and remember that your design will be appealing, eleggant and unique. There are no limits to the imagination....
Crafted by hand
4. most people underestimate the multitude of steps that are necessary to create the desired product:
Casting, soldering, filing and polishing require a lot of patience from the jeweler and artist, in addition to skill.
Which material for your Jagdabzeichen?
Therefore, the material decision is of great importance.
The noblest metal is of course the gold, precious and best suited for fine detail work.
Silver is also very popular, a noble metal that also meets high demands.
Brass is cheaper in price, but a not necessarily easy to work with.
Pewter is the least expensive metal and a good compromise for price-conscious customers.It is easier to make, though not as durable as other metals.
Examples Jadabzeichen
Conclusion
If you want to know more about possible hunting badges, contact with confidence Sophie Salm, professional hunting jewelry maker with training and studies in England and many years of experience. She will be happy to help you design and make the most suitable( or appealing) hunting motif for you.
Thank you for joining us on this journey through the world of bespoke hunting jewelry. Stay tuned for more stories, insights, and updates as we continue to celebrate the traditions and craftsmanship that define our brand.
 Read my other alpine hunting blogs here:
Or feel free to purchase a Jagdabzeichen by following the link below:
(more to come!)