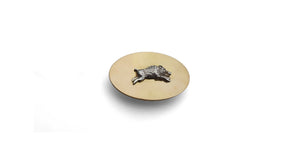 Oval Brushed Brass Belt Buckle Wild boar
Regular price €285,00 Sale
This amazing hand made belt buckle features a wild boar in flight. It is made to fit a 3.5cm wide leather belt. This buckle does NOT come with a leather belt. This can be ordered separately.
The wild boar is made from sterling silver and soldered on to the brass buckle,
Personalized belt buckle
I can make any personalized Belt Buckle, Personalized Brushed Brass Belt Buckle, Men's Belt Accessories, Custom Belt Buckle. Brass Belt Buckle that can be personalized with sterling silver letters of your choice. We can even add your personal customized Logo.
Customized belt buckle
Good design is as little design as possible. This is why it is so difficult to get just right.
Handmade belt buckle
These are polished by hand by myself in my small workshop in Vienna.
These belt buckles are made using brass. Each item takes roughly about 6 hours to make.  
COUNTRY OUTFITS
I have further shooting sport motifs such as those seen here: