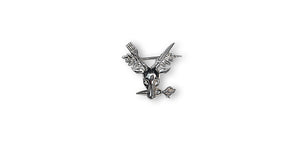 Hunt insignia or Jagdabzeichen: roebuck in sterling silver
This hunt insignia or badge is NOT available for general sale and was made to order for a customer.  It is shown for illustrative purposes only. I hope you like my portfolio.
These badges are often referred to as Jagdabzeichen on the European continent and are traditionally worn by hunters on their cap. This badge features a roebuck with a carrot in mouth and knife and fork instead of antlers.
Design your own hunt insignia - unique designs and best craftsmanship from Vienna's favourite hunting jeweler. 
I make this personally in my workshop in Vienna from sterling silver.

In German: gestalten Sie Ihr eigenes Jagdabzeichen - einzigartige Designs und beste Handwerkskunst von Wiens beliebtestem Jagdjuwelier. Blog: alles rund um Jagdabzeichen
 Read my other alpine hunting blogs here:
Or feel free to purchase a Jagdabzeichen by following the link below:
(more to come!)
For the visually impaired this page features
Jagdabzeichen
Hutabzeichen Jagd
Jagd-Abzeichen
Jagdabzeichen Rehbock
Capreolus capreolus
Wildbret