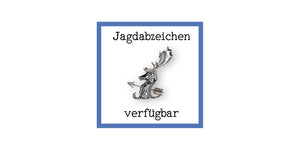 Jagdabzeichen: fallow deer
Regular price €100,00 Sale
This hunt insignia or badge is available for general sale and can be made to order if no stock is available.
These badges are often referred to as Jagdabzeichen on the European continent and are traditionally worn by hunters on their cap. This badge features a fallow deer's head in sterling silver and is made by Vienna's premier hunting jeweler.
I make this personally in my workshop in Vienna from sterling silver.
In German: Damhirsch oder Damwild 925 Silber kann als Hutnadel getragen werden. Handgefertigte Jagdabzeichen aus Sterling Silber – Jagdjuwelier Jagdgeschenk Hutabzeichen. Blog: alles rund um Jagdabzeichen
Read my other alpine hunting blogs here:
Or feel free to purchase a Jagdabzeichen by following the link below:
(more to come!)
For the visually impaired this page contains
Jagdabzeichen
Jagdabzeichen kaufen
Hutabzeichen Jäger
Jagdgeschenk Damwild
Hutnadel Damwild